128B Long Stuffed Coat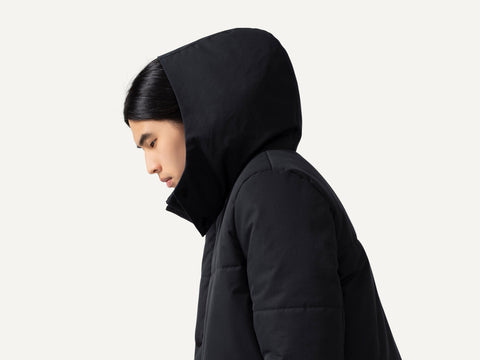 Meet the Nomen Nescio renewed minimalistic winter classic, super cosy puffer coat that keeps you warm and safe during the coolest winter days. Coat is responsibly crafted from water resistant 100% organic cotton, and planet friendly 100% recycled polyester wadding. The two-way front zipper and press buttons allows for temperature adjustments, together with zippers at side seams you can control the freedom of movement and styling. Protective high collar and spacious hood guarantees the ultimate cover and wind protection.

Water and wind protective matt surface and timeless finishing makes the coat versatile and easy to combine. Style it smart with Nomen Nescio tailored suiting pieces or relax it down with our classic merino joggers and hoodie.

128B Long stuffed coat is made of European premium quality fabrics, produced in Estonia and designed in Helsinki at Nomen Nescio studios.




128B Long Stuffed Coat