Nomen Nescio: interview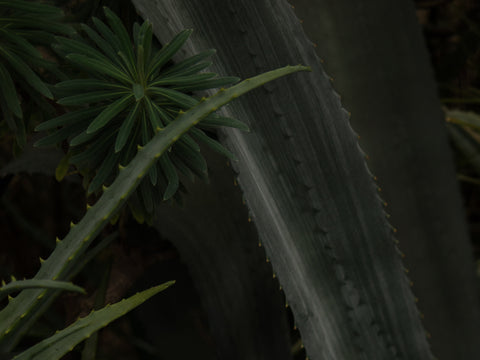 text: Jani Niipola
Nomen Nescio 
There are two ways to wear black. One is aggressive, the other is philosophical, practical and creative. Nomen Nescio explores the frontiers of the latter. At Pitti Uomo the Helsinki-based label, fronted by designers Niina Leskelä and Timo Leskelä, presents a unisex collection of minimalistic clothes and architectural character studies. 
Nomen Nescio takes minimalism seriously and features clothing only in black even though the color is both relevant and irrelevant at the same time. Nomen Nescio is an exploration of the human form and the black in its clothing is a practical tool of everyday life. Black is always a statement, but at Nomen Nescio it is a message of minimalism and practicality more than a manifesto. Founded in 2012, Nomen Nescio has been slowly growing into a brand that is ready for the international stage of Pitti Uomo. While the collection has been evolving for years — it keeps a permanent collection of unisex staples and introduces new items organically each season — 2017 was a hallmark year both for the company and its designs. We spoke with the design team of Niina and Timo Leskelä to know a little more. 
What is the design philosophy behind Nomen Nescio? 
Niina Leskelä: That is a very big question and we don't have the complete answer yet. A powerful element behind our design is minimalism, both as an aesthetic element and as a value. We create simple, quality clothing that is not seasonal. We like to think of our clothes as basic items that have some sort of architectonic flavor. Many of our customers work in creative fields and are architects, musicians, photographers, professors, etc. They need basic clothes that they can wear at work and at home and we are trying to find the best materials to create these clothes. 
Timo Leskelä: What is the point of minimalism in art and architecture in general? The less things there are going on, the more you concentrate on the essence of the item or space. This is the same for architecture and fashion. The most important thing in our design is the feeling communicated through the character. Minimalism is the reason why we started making only black clothing because for us black represents a fresh approach to design, it's soothing and it allows the person to concentrate on the thing itself. We have no prints, for example. It is more important to concentrate on the character and the feelings it communicates. 
NL : Black as color divides people. We see it in showrooms all over the world. People either love our clothes or are not interested in them. It is a very clear line and I find it interesting. We are designers, not sales people. So it is very nice for us that our collection communicates our concept so clearly. Having said that, I must add that the best thing about wearing only black is definitely laundry day. 
There are other brands that use a lot of black in their collections. Where you do position Nomen Nescio in the fashion scene?
TL : Many buyers like to compare us to Rick Owens or Yohji Yamamoto. We feel that we might be in the same sector with these brands but our approach is much more introvert than with them. To put it this way: it is really not a statement to wear black clothing. Many different kinds of people wear it. We like to think that the statement is the feeling you have wearing these clothes which is a different thing. It is easy to say that everything has been designed already, minimalism with Scandinavian and Japanese influences is not uncommon. 
NL : We have a dash of the dark avant-gardism that these brands represent but in Nomen Nescio it is combined with Scandinavian minimalism. And what separates us from the pack is that we design a unisex collection. This is a trend that is growing but we did not try to be trendy with this choice. It was a very natural process for us. We are almost the same size and wear the same shoe size so this was a practical issue for us. Of course sometimes you design a piece of clothing that has a slimmer fit and have an idea that this might fit men better. But the funny thing is, you might be wrong. Often the clothes I thought would please men become women's favorites. 
TL : We like to explore the border between feminine and masculine in order to find that space in between where gender is not relevant. The idea is that the person wearing the clothes defines them feminine or masculine with his or her own personal qualities. 
Nomen Nescio is known for its permanent collection that gets only a handful of new items each season. How many new designs will we see at Pitti Uomo?
NL : About thirty percent of the collection are new designs and the remaining seventy percent are the classic items we produce each season. This time we are producing more new stuff and maybe one third consists on our classic styles, the other third are classic designs in new materials and the final third is completely new. With the Guest Nation Finland project we have a chance to leap a little bit further. 
TL : This is connected to other things than Pitti Uomo. The fall of 2017 was the first time that we were able to work at the studio that we had renovated just the way we wanted. We have a new space with a shop upstairs and a design studio downstairs. We have been able to concentrate in designing in a new way! This has been our plan all along. We started in 2012 but have been keeping a low profile. Now everything has changed with our shop in the center of Helsinki. Having your own shop also presents the unique opportunity to see firsthand who your customer is and we are getting all kinds of people from teenagers to gentlemen in their seventies. 
You come from a slightly different background than the other designers in Guest Nation Finland. What is your background?
NL : That's right. Neither of us have any formal education in fashion design. I have studied cultural geography and history but I never finished my thesis. Then I studied needlework and sewing at the Roihuvuori vocational college in Helsinki. This was a womenswear course but I asked to do the menswear, too. So in a sense I completed both courses during my two years at the school. 
TL : I started as a carpenter a long time ago but I have a degree in furniture design from the Lahti Institute of Design. In addition I studied design at Aalto University but never finished the degree because I wanted to work. For the past years I have worked in a furniture design office and we have worked on projects for companies such as Martela and Arper. In fact, all the furniture in our store is designed by me. 
Nomen Nescio is a two people show. How does that work, how do you divide the tasks?
TL : We met, got married and started slowly thinking and planning this company. We do a lot of the design work together. Starting from the beginning Niina worked on the production side and she is the CEO, but we design together. My role is more being the brand director I guess. I am designing our visual identity, the shop and all the sales material. 
What inspires you? 
TL : Traveling and architecture. In 2016 before opening our shop we traveled around the world a lot both for business and also just for inspiration. From Mexico City to Hong Kong to Tokyo we probably traveled for 130 days that year. 
NL : It is important to travel to place your brand in a global context. It is very effective. 
What are your expectations for Pitti Uomo? 
NL : This will be the first time and we are very excited. It feels great to be a part of this Finnish team. We are looking forward to finding new contacts but we understand that it takes time for things to happen. Naturally we want to present the world our collection and show what we can do. Pitti Uomo is part of an important combination for us as we are showing in Paris the week after. 
TL : We try to do our best and we trust that someday the contacts will come. Previously, we have concentrated more on designing and less on marketing and selling ourselves. Now the time is right to go to Pitti Uomo and show the world what we have been making in the darkness of the North. It is difficult to set specific goals, there are thousands of people coming to Pitti and these people are interested in fashion. I am sure that there will be people that are interested in our way of thinking and designing.  
What is the signature style of Nomen Nescio? Name one key piece from the Pitti Uomo collection.
NL : It has to be the Winter Coat that has been in our collection since 2012. The coat is made from a carefully selected Italian fabric and the coat can take all the rain and wind the Finnish nature provides. It has been in the collection since day one but of course the model has been improved slightly which is a natural evolution.