Organic cotton coats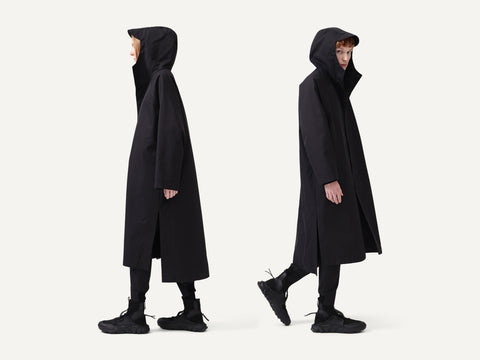 Weatherproof organic cotton coats for layering

Nomen Nescio weatherproof organic cotton coats are made of vigorous, enduring and versatile organic cotton that repels humidity and wind. All coats are hooded for maximum coverage. Matte surface of the material gives it a timeless and dignified character. Environmental impacts of cotton are diminished by organic cultivation.

Combine with our quilted jackets to stay warm also during winter. An insulating layer of air between yourself and the external weather conditions will keep you warm. All light quilted items are made of recycled polyamide with a recycled polyester wadding. 

154 Loose Parka Coat is a new multi-functional and spacious coat for various conditions, perfect for layering.

123C Parka Light has a slimmer fit and a recognisable fishtail hem at the back. Presentable, yet weatherproof choice for any occasion.

110B Robe Coat comes with a belt that works as suspenders to hang the coat at the back, perfect for layering and multiple styling options.

124 Shell Coat gets a more distinctive form in the new quality. Wear with 218 Shell Pants to be covered from head to toe in style.