Vogue Italy: The total black by Nomen Nescio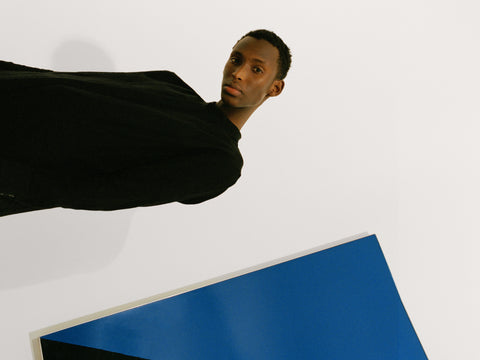 Anonymous high fashion.
Black, androgynous clothing with form and materials designed and executed with unparalleled sense of style – that's what Nomen Nescio is known for.
Nomen Nescio – who?
Nomen Nescio appeared on the Finnish fashion scene around five years ago. A label featuring black unisex clothes emerged stealthily with no advertisement and no designer interviews.  Not even the name of the designer was revealed during the first years. That's where the name comes from. Nomen Nescio is Latin and is used when signifying an anonymous person.  The idea behind this approach was that if there is no connection between a label and a designer, people would automatically pay attention to the clothes themselves – which are quite something! Nomen Nescio is like the love child of Comme des Garçons and Rick Owens.  "We were thinking that this is not about us, it's the clothes that matter," says Timo Leskelä, one of the two founders.  Timo and the other founder, Niina Leskelä, were interested to find out what kind of people would find the clothes themselves interesting if there is little or no marketing. Or, what clothing needs to be like in order to pique people's interest.  "It's like hearing a song but you don't know whose is it. You can't get it out of your mind and you need to find out who the artist is." Niina Leskelä says it's to do with their personality types. They both consider themselves introverts and do not enjoy being the centre of attention. The strategy proved successful: word got around and their coats that are like wearable art and trousers with the perfect cut sold like hot cakes.  It was only when the Leskelä duo decided to set up the label's Helsinki flagship store that they decided on putting a face to the name. They decided to aim for international brand visibility.  
More three-dimensional for Pitti
The underlying principle of Nomen Nescio is that you don't come out with new items just for the sake of having something new to offer. The collection consists mostly of classics or updated versions of articles from previous seasons. Some of the styles have remained pretty much the same ever since the beginning. The striking Winter Coat is one such item as is the T-shirt. For Pitti Uomo the Leskelä duo has come up with an exceptional amount of new designs. What's also new is the scale of the clothes: whereas Nomen Nescio's silhouette is usually slim and they go for a minimalist choice of fabrics, the collection now features also lush fabrics and loose-fitting cuts. "It's a more three-dimensional collection than before", Niina says.  "We've been working on our label for five years now and we've perfected the basic articles. From now on we will be developing things that are a bit more special", Timo says.
Minimalism is peaceful
The Leskelä duo are also a couple and Nomen Nescio got its start with the desire to work together. At first they did not know that it would be clothing that they would be working on. With Timo's background in furniture design and Niina's in cultural geography, the concept could have been something totally different.  "We were interested in pursuing a certain kind of a feeling", Niina says. That certain kind of feeling is present, for example, in Richard Serra's sculptures, James Turrell's installations, Tadao Ando's architecture and in the music and solo performances of the Finnish artist Timo Kaukolampi.  "For some an all-black collection conjures up something that is bleak and grim", Timo says. "For us it's the total opposite: we aim for kindness, good mood, confidence and peace."  Nomen Nescio's aesthetic is very minimalist and devoid of all excess – all items are black and with no ornamentation. For the Leskeläs functional minimalism is a philosophy of life with Nomen Nescio being just one manifestation of the lifestyle.  "To have only your favourite pieces of clothing in your wardrobe. Good, high-quality long-lasting items. And the same with life in general, to have nothing unnecessary. That's how you will be able to concentrate on what's essential in life."  Niina and Timo try on each item of clothing in their search for perfection. "Several times", Niina says. "We look for the perfect balance between the feminine and the masculine."  Even though Nomen Nescio is a unisex brand the same item can look very masculine on some and feminine on other.  "Our aim is not to have clothes define you but, rather, you to be the one that defines the clothes."
by Anna-Kaari Hakkarainen
photos: Osma Harvilahti
read the full article here